How We Teach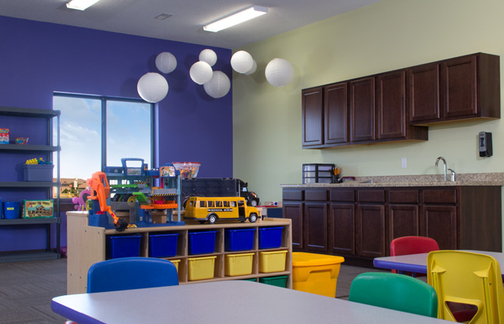 Solon Learning Academy is a complete school readiness program that focuses on the following dimensions:

· Social and emotional development

· Physical development and Health

· Literacy and communication skills

· Mathematics

· Science and Technology

· Social Studies

· Creative Arts

Each week students are taught through in-depth themes that have been developed by the director. Children not only learn about the theme for the week, but are exposed to letters, sounds, numbers, and many other concepts through learning centers, art projects, writing exercises, dramatic play, and learning games. The classroom is divided into different centers full of stimulating materials designed to enhance learning. The centers include, an art center, math center, science center, reading center, dramatic play, block area, and small toy area. Materials are arranged so that children can access them on their own and put away materials themselves. This helps children learn important organizational skills and enforces independence.

It is important to us that we take learning beyond traditional academic subjects and teach children to be independent learners. Children learn through their own curiosity, persistence, and creativity. Teachers must encourage learning by communicating both verbally and nonverbally. When children find themselves in conflict, a problem solving approach will be taken. Constant encouragement will be given throughout the day to build up children's self-esteem and willingness to learn.

The Daily Routine
The daily routine provides structure for children and well-balanced learning opportunities. Children will engage in individual play and learning, small group activities, large group activities, and large motor play. Each child will also aid in classroom cleanup and classroom set-up. Each week children will have a specific job they will carry out. During large group, teachers introduce children to new materials, activities, and ideas that students can continue to explore throughout the day. This time is also important because it offers children social opportunities and allows every child the chance to share their ideas and hear the ideas of their peers. Generally group time runs about twenty minutes per day.

Assessing Children
It is important that children are assessed throughout the school year. Each child will be assessed at the beginning of the year to identify areas of strength and opportunity. They will then be assessed in November and February to measure progress. The final assessment will be given at the end of May to show the progression of the child throughout the year. These assessments will help the teacher know what to focus on during one-on-one instruction. The assessments will be used to evaluate children's development and plan activities to help the individual. It will also help to make the class as a whole stronger. It is important for each child to receive one-on-one instruction every week. Every child is different and will learn at different stages in different ways. By providing time for the individual, we are helping the student to be the best they can be.

Overall Goal
Our overall goal for the Solon Learning Academy is for each child to be academically, emotionally, physically, and socially ready for kindergarten. We will encourage children to learn through their own curiosity and creativeness as well as being guided through structured learning and instruction. We will encourage confidence and create the desire within to learn. Not only is it important to build a strong and trusting relationship with each chid, but with each family. A strong family atmosphere will be created at Solon Learning Academy where parent-teacher relationships thrive.





Room By Room Curriculum


Infants (6 weeks - 12 months)
Solon Learning Academy's curriculum for infants is designed to foster each infants individuality. We offer sensory based learning experiences for your infant, such as; daily tummy time, reading books, singing songs, classical music- just to name a few. In addition, infants will be placed on a schedule specific to their own needs and at their parents request.

1's
The toddler curriculum focuses on leading your toddler to make their own choices appropriate for the setting. We also focus on fine and gross motor skills as well as social skills and emotional development. In the toddler classroom we will also introduce toddlers to concepts such as shapes/colors/letters/numbers. Within this classroom kids may begin potty training depending on their needs.

2's
Within the two year old classroom your child will be inspired to learn through creating and examining. Their language will broaden through interaction with their peers and teachers in learning situations. More of a focus will be placed on educational activities, such as; calendar time, story time, alphabet, numbers, shapes and colors. In addition More of a focus will be placed on potty training in this classroom as well as getting your child accustomed to a more preschool oriented setting. Within this classroom your child will also begin taking field trips to help aid their learning experience.

Early Preschool
Within the three year old classroom your child will be introduced to a structured preschool setting. Your child will learn through thematic units. Daily activities will be structured similar to a kindergarten classroom. In this early preschool classroom your child will also be exposed to knew learning experiences through guest speakers as well as various field trips.


Preschool
The preschool program is a year-round program that prepares your child for a challenging year in Pre-kindergarten. The preschool year is taught through well-developed themes that introduce important concepts in a fun and exciting way. Children are expected to know the following before beginning our Pre-kindergarten program:

· Uppercase Letters/Lowercase Letters

· Letter Sounds

· Numbers 1-30

· How to write their name

· Have motor skills such as using scissors and glue

· Develop Independence (for example: going to the bathroom on their own, dressing themselves, etc.)

Assessments are given four times during your child's preschool year to monitor their progress. A portfolio is also developed to show growth made through art and writing.

Pre-K
Solon Learning Academy's Pre-K curriculum is a year-round program that includes over 40 themed units. Each school year ends in May with a graduation ceremony to conclude the children's accomplishments. Each Pre-Kindergarten year will be packed full of learning, field trips, fun party days, special events, and speakers visiting our building.

Children will be kindergarten ready by the time their pre-kindergarten year is over, not only academically, but also socially and emotionally. We will help your child to be successful in groups and as independent learners. Children will communicate through drawing and writing and express themselves through a "Pre-Kindergarten Portfolio." Assessments are given four times during the school year to monitor progress made by the child. Parent-teacher communication is very important to us and parents will always know the progress that is being made by their child. As the director, I believe strongly in a "no-child left behind" view on teaching and will work to make sure that each pre-kindergarten student is fully prepared to enter his or her kindergarten year.

Before and After School Program (BASP)
Solon Learning Academy's BASP is a year-round program that focuses on fun activities that center around a variety of themes. Children begin the Before and After School Program once they begin their kindergarten year.

Daily activities during the school year include:

· "Homework Hour" – This hour consists of working on assigned homework given by the child's elementary teachers. Besides homework, this time is used for: reading, drawing, writing stories and allows teachers to tutor children. Tutoring can be scheduled between parents and teachers if desired.

· Fitness Activities designed to keep your child active and having fun!

· Field Trips during winter break/non-school days

· Themed activities that bring learning to life

· A fun/family environment that promotes social skills, confidence and self-esteem.

Our summer program includes similar activities as well as daily visits to the local swimming pool and weekly field trips.








Hours of Operation
|
Contact Information
Monday Through Friday
|
6 am to 6 pm


Phone
(319) 624-5122
| Fax
(319) 624-5123

Email:
info@solonlearningacademy.com